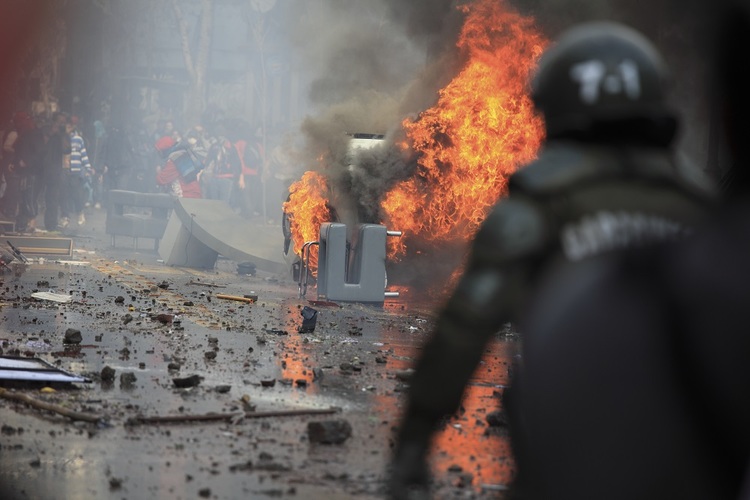 Your privately owned vehicle can become an unintended target in the middle of a protest. A peaceful demonstration that deteriorates into violence, rioting, and looting puts private property, like your prized car or truck parked on the street, in harm's way.
Civil disturbances in 2020, ignited primarily by racial tensions over the deaths of Black civilians at the hands of police officers, have caused hundreds of millions of dollars in damages for commercial businesses and private property owners. Many motor vehicle owners have had the misfortune of driving into a mass protest before fleeing with shattered windows and body damage. Others have had to look helplessly at the vandalism to their car or truck in the street.
You may be asking yourself if your auto insurance in California covers damage that results from vandalism during civil unrest or riot. Depending upon the coverage you have, the answer is likely yes.
Full Protection
Motor vehicle owners in most states are required to carry liability coverage against bodily injury. Owners often carry collision coverage to cover repairs from an accident. When it comes to unexpected events like a riot or civil unrest, comprehensive protection is the coverage to have.
Comprehensive insurance covers everything else other than a collision with another vehicle, such as damage to your vehicle from theft, fire, weather-related events like hail and floods, and vandalism during a civil disturbance. If your car or truck is damaged in civil unrest, the coverage may help pay to repair or replace your vehicle.
Cost of Comprehensive Coverage
Comprehensive coverage can add significant cost to your California auto insurance, and like collision insurance, you'll have to pay a deductible before the insurer pays its share of the claim. This is the amount you'll pay out of pocket before your insurer reimburses you for a claim if your vehicle is damaged or totaled in a riot.
The cost is determined by factors such as the company issuing the coverage, the coverage you currently have, and your place of address. If you are leasing or financing your vehicle, the lender likely requires that you take out comprehensive coverage to protect the vehicle over the course of the lease or term of the loan.
Your Steps to Follow
Much of the violent civil unrest in 2020 has taken place in major U.S. cities. You may not have experienced loss to your car or truck from rioting crowds, but these are some steps to take in the event your car was in the wrong place at the wrong time and sustained extensive or total damage.
You'll want to document the damage and take photos of your vehicle for a police report. Make sure the information you provide corresponds with the time of the protest taking place, along with any orders such as local curfews taking effect in the area you live in. This is official documentation to validate the information to your insurer.
Contact your insurance company that provides your comprehensive coverage and file a claim. The insurance company will send a claims adjuster to assess the damage and calculate a value. Your final steps would be to pay the deductible for repairs to your vehicle or accept a settlement of your claim at actual cash value.
More Protection
The civil unrest of recent months may not affect you directly, but comprehensive coverage from auto insurance companies in California can be the most effective level of protection you can have for your motor vehicle if the unexpected happens. If you are considering upgrading your personal or commercial auto insurance in California, call California Brokerage Associates today at 619-283-9999.