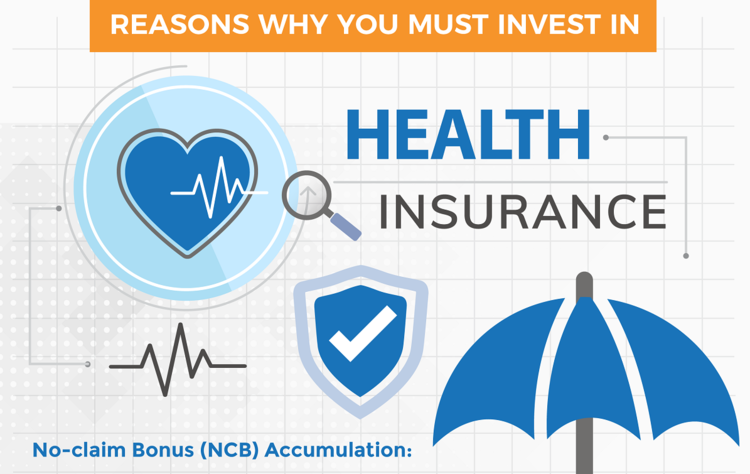 Many younger people believe that health insurance coverage purchased through their employer is enough to cover all their medical expenses and protect them from financial ruin. However, if you become seriously ill or are severely injured, group health insurance isn't enough. Aside from filling in the gaps from employer-sponsored health plans, there are 5 other reasons to invest in health insurance:

No-claim Bonus (NCB) Accumulation: Younger people don't have as many medical ailments. Therefore, they don't make as many claims. Private health insurance plans allow you to accumulate the NCB until a claim is made. This means you get higher coverage for the same low premium.
Pre-existing Waiting Period Benefit: Did you know many health insurers have a 2-4 year waiting period before they'll cover pre-existing conditions? Buying health insurance at a young age allows you to exhaust the waiting period and have the coverage you need at an older age.
Wider Scope of Coverage: The younger you are, the easier it is to find affordable, comprehensive healthcare coverage.
No Medical Checks: Younger people don't have to meet the same medical requirements as older people and aren't required to pass a medical exam before being offered coverage.
Fewer Chances of Being Rejected: Purchasing health insurance as a young, healthy individual gives you peace of mind that you won't be rejected because of pre-existing conditions or poor health from lifestyle habits.
At California Brokerage Insurance Associates, we know how important it is for young people to invest in health insurance. That's why we work closely with our clients to provide guidance and help them find a health plan tailored to their specific needs. Whether you're a young professional buying your first healthcare plan or an older adult looking for better coverage and protection, count on our team for quality insurance coverage. Our goals are to provide you with professional service and develop long-term relationships with all our clients. Let us do the insurance shopping for you and compare the options to get you the best deal possible. Call us today at 619-283-9999 for no-obligation insurance quotes.